Celtic Bracelet Waldalgesheim, Bronze
Inspired by a find from the grave of a Celtic princess, this gem of Celtic craftsmanship has been made in genuine bronze!
Bracelet Waldalgesheim
This beautiful celtic bracelets fits our Waldalgesheim torques. Inspired by a find from the same grave of a Celtic princess, this jewel of Celtic craftsmanship was solidly created in genuine Bronze! The size can be adjusted by careful bending.
The Celtic tomb of the Princess of Waldalgesheim
The tomb of the Celtic princess of Waldalgesheim is one of the most important finds of the Celtic Latène period. It was discovered 1869 in agricultural works and a year later by the "Verein von Alterthumsfreunden in the Rhineland" with illustrations published. A modern excavation was unsuccessful, the probable site was finally built in 2007.

 The outstanding finds are now in the collection of the Rheinische Landesmuseum in Bonn. In their composition, with their yoke fittings and iron equipment, they pointed out from the horse's harness a carriage-carriage, in which a member of the Celtic upper class was buried between 330 and 320 BC. The eye-catching and individual ornament style with its ranks-like decorations is regarded as the leitmotiv of Celtic art and bears the name "Waldalgesheim style".
 Outstanding beside the car parts is the personal decoration of the Celestial Princess with golden arm and ankle rings. Especially the neck (Torques) is one of the outstanding works of art from the Celtic period.
 In addition, a valuable drinking utensils with a magnificent cane were also included.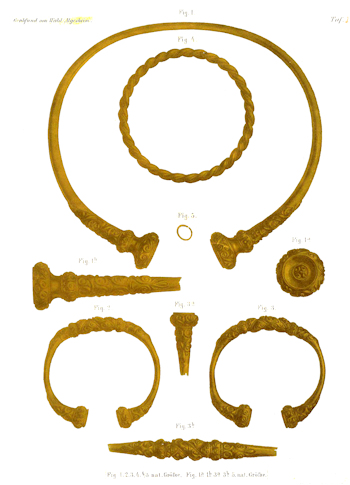 More Information

| | |
| --- | --- |
| Delivery time | 3-4 weeks |
| weight | 0.070000 |
| size | Innendurchmesser 65 mm |
| Era | Celts |
| Material | Bronze |
| Kind of replica | Bracelets and Neckrings |
| scope of delivery | Delivery in a jewellery case with certificate |