Celtic Belt Hook, Glauberg Grave 1
Large Celtic belt hook with mythical creature and human head, freely adapted from a find from the Glauberg, princely grave no. 1. 5th century BC.
Celtic belt hook from the Glauberg, Grave 1
Celtic belt hook with animal head and box-shaped fitting, based on the find from grave 1 from the Glauberg. The mythical creature with its pronounced snout, perhaps a bear, holds a human head in its fangs, the beard of which forms the fastening hook. The delivery is ready to mount with rivets, without leather. The fitting is designed for a strap width of 50mm. Size approx. 5.5 x 8.5 cm.
Celtic belt hook from the Glauberg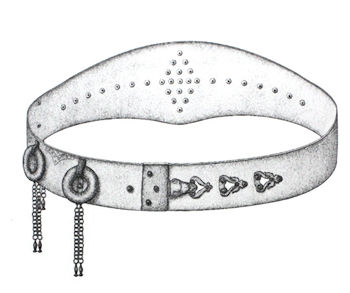 Possible reconstruction according to Monica Bosinski
The Glauberg is a foothill of the Vogelsberg in Hesse and a well-known prehistoric settlement site. On the plateau of the mountain, numerous, partly fortified settlement sequences have been archaeologically proven since the Stone Age. In 1988, aerial archaeology revealed a circular ditch at the foot of the Glauberg, which was investigated in an excavation by the Hessian State Monuments Office. The discovery of an Iron Age burial mound led to a block excavation of the burials found from 1994 onwards. The central burial is designated as grave 1. In 1995, an additional ceremonial burial (Grave 2) was located under the same tumulus, which was also recovered in the block and carefully investigated. Geophysical measurements made it possible to locate additional, large-scale ditch systems, which indicate that the Glauberg was probably also a cult site of supra-regional importance in Celtic times. In addition, a smaller burial mound was discovered in 1997, in which another burial was recovered. The warrior's grave no. 3 is somewhat less splendidly furnished, but still contains some outstanding finds. Particularly impressive is the statue of the Celtic prince, which may have crowned the large burial mound. Fragments of other statues, however, leave the exact number and arrangement of the larger-than-life stone figures open.
More Information

| | |
| --- | --- |
| Delivery time | 4-5 weeks |
| weight | 0.150000 |
| size | 55 x 85 mm |
| Era | Celts |
| Material | Bronze |
| Kind of replica | Belt Buckles and Fittings |
| scope of delivery | With rivets and instructions, ready to assemble. |