Large roman phalera with decorative three-dimensional depiction of the Magna Mater Cybele. The oriental mystery cult of Attis and Cybele was even practised in the provinces of Gallia and Germania.
Phalera Cybele, Bronze
Our production starts with an wax model, which is detailled by hand and casted in an authentic and costly way afterwards. The metal cast is again intensively reworked, sanded and polished by hand. It is no thin sheet metal or a metal covered resin cast, but a massive and valuable piece of ancient history. Made from genuine, solid bronze! Diameter ca. 90mm, weight more than 200 gramms ! Rivets are supplied for fastening, but optionally soldered-on eyelets and split pins are also possible.
Phalera fastening: rivets or eyelets?
Fastening with rivets is more versatile. To do this, holes must be drilled in the edge of the phalera. This means that the fastening points can be selected individually, and other uses, for example as furniture fittings or emblems in a plate (like the original in secondary use), are also possible without any problems.
Fastening with eyelets and cotter pins is faster and easier, but the leather straps must match the fastening points. On the back, the cotter pins can get stuck in sensitive undergarments. Here, too, it is only possible to apply it to leather straps as a phalera. This type of attachment was used, for example, with the Phalers of Lauersfort.
Phalera Cybele
Discs with embossed decorations were widely used as applications and military medals. Famous are the depictions of centurions with many phalerae as military awards attached to a harness.
This phalera with the three-dimensional depiction of Cybele was probably first attached to an roman centurion´s harness, proofed by the original rivet holes. Secondary, it was fitted to a decorative drinking bowl. This so-called Phiales are part of the silver treasure of Hildesheim, other examples were found at the roman villa of Boscoreale at the Gulf of Naples, which was destructed by the eruption of the Vesuv. Similiar decorations were fitted to chests or other furnitures.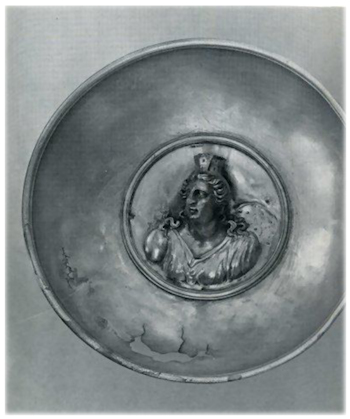 Cybele is a mother goddess of Anatolian origins, the ancient Phrygia. She first seemed to be a metaphor for mother earth. In Rome, the Cybele-cult emerges in the 3rd century BC, in 191 BC the temple for Magna Mater was opened at the Palatine hill. She was a protective goddess for cities and fortresses and wears a crown depicting a city´s wall. The mystery cult of Attis and Cybele was widespread, even in Mainz, Trier or Cologne sanctuaries, temples and inscribtions were discovered. A connection between the local cult of the Matres and Matrones is likely and surely supported the spreading.
More Information

| | |
| --- | --- |
| Delivery time | 4-5 weeks |
| weight | 0.230000 |
| size | 90 mm |
| Era | Romans |
| Material | Bronze |
| Kind of replica | Militaria |
| scope of delivery | With rivets and instructions, ready to assemble. |