Small Scarab Tutankhamun, Gold
Small scarab amulet pendant with seals of Tutankhamun, 1325 BC.
Small Scarab Pendant
The Scarab of the species Scarabaeus sacer, also called Dung Beetle, was worshiped as animal of Kephri, god of the rising sun. His characteristic to roll a dung ball was associated with the way of the sun at the sky and the bark of god Re. As a symbol for resurrection and lucky charm in general, he was often worn as amulet pendant.
Two seals of Tut-Ankh-Amun are placed above the massive scarab, protected by two Uraeus Snakes. Made of solid gold. Size 17 x 10 mm.
Egyptian Scarab Pendants
The scarab (also scarabaeus or "lucky beetle") is a representation of a beetle from the leaf-horned beetle family (Scarabaeus Sacer).
As a "dung beetle" or "pill beetle", it rolls a ball of dung over the ground to lay its eggs in it for reproduction.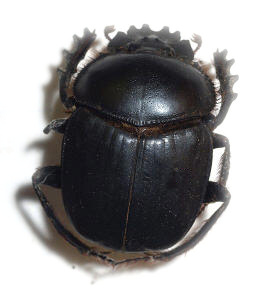 In ancient Egypt, the beetle was worshipped as a "cheper", a divine being.
The rolling of the dung ball was associated with the cycle of the sun. The rapid multiplication and numerous occurrences immediately after the recession of the Nile flood were also considered divine gifts.  Among the ancient Egyptians, the cheper / scarab was worshipped as an apparition of the sun god Re.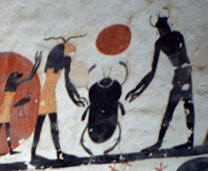 Numerous wall paintings from the time of the pharaohs show the scarab in connection with the sun, with Re and the sun barque.
The scarab was often provided with inscriptions. In the secular sphere, they were used as simple seals.
In addition, the scarab also had a function as an amulet and sacred symbol. In the sacred realm, the scarab became the bearer of spells that were supposed to influence the judgement of the deceased at the court of the dead.
Small scarabs were worn as lucky amulets or placed between the mummy bandages of the deceased.
More Information

| | |
| --- | --- |
| Delivery time | 3-4 weeks |
| weight | 0.003500 |
| size | 17 x 10 mm |
| Era | Egypt |
| Material | Gold |
| Kind of replica | Pendants |
| scope of delivery | With jewellery case and leather necklace |