Crossbow Brooch Keller 6, Bronze
Late roman crossbow brooch type Keller 6, reconstruction of a fragmented original from the late 4th to early 5th century.
Late Roman Crossbow Brooch Type Keller 6
Late roman crossbow brooch type Keller 6 made of solid bronze with decorated foot and sturdy steel needle.
On request and for an additional charge, an authentic bronze needle is also possible, but the steel pin is much more resistant, has a greater tension and is thinner with the same stability. Size approx. 80mm. 
The basis of the reconstruction was a fragment of a late Roman brooch, which could be identified as a crossbow brooch of the Keller 6 type due to the shape of the bow and the buttons.
The fragment was subsequently reconstructed according to a matching comparative find from the cemetery of Monceau-le-Neuf. Thus, the brooch perfectly matches our animal head buckle 735101 from the same find context, which dates to around 400.
The cemetery of Monceau-le-Neuf, Dép. Aisne
"On an elevation to the north of Monceau-le-Neuf, a large inhumation cemetery dating from the late Roman and Merovingian periods was uncovered. Numerous graves of the 4th century were destroyed by later burials. A continuous occupation of the cemetery from the 4th to the 7th century is very likely. The excavator Lelaurain attributes about 200 graves to the late Roman period and about 800 graves to the Merovingian period. Among the burials of the
Among the 4th century burials, 2 rich weapon graves stand out [including tomb 1].
Whereabouts: Mus. Municipal Laon (parts of tomb 1 in the Delvincourt Collection, formerly Crécy-sur-Serre)."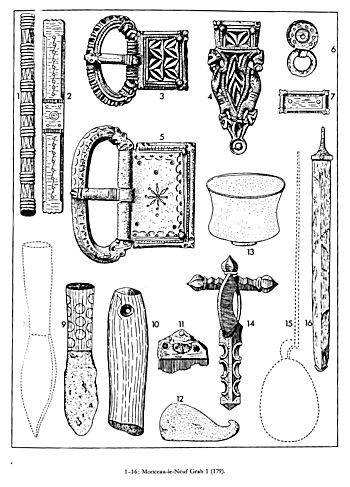 From:H. W. Böhme, Germanische Grabfunde des 4. bis 5. Jahrhunderts zwischen unterer Elbe und Loire. Studien zur Chronologie und Bevölkerungsdichte. Münchner Beitr. Vor- u.Frühgesch. 19 (München 1974).
Lit. : C. Boulanger, Le Mobilier Funéraire Gallo-Romain et Franc en Picardie et en Artois (1905) Taf. 8, 4.7-8; 9,4; 10, 4; 11 ; 12, 1 ; 14-15; 20.
J. Pilloy, Etudes sur d'anciens lieux de sépultures dans l'Aisne 3 (1912) Taf. 4, 1-12; 5.
J. Werner, Acta Arch. 20, 1949, 248 ff. - H. Roosens, Quel-ques mobiliers funéraires de la fin de l'époque romaine dans le nord de la France. Diss. Arch. Gandenses 7 (1962) Taf. 10-12.
M. Proettel, Zur Chronologie der Zwiebelknopffibeln, IN: Jahrbuch RGZM Mainz 1988, Mainz 1991
E. Keller, Die spätrömischen Grabfunde in Südbayern, Münchner Beitr. Vor- und Frühgesch. 14, München 1971
More Information

| | |
| --- | --- |
| Delivery time | 4-5 weeks |
| weight | 0.080000 |
| size | 80 mm |
| Era | Late Antiquity |
| Material | Bronze |
| Kind of replica | Fibulae and Brooches |
| scope of delivery | Delivery in a jewellery case with certificate |